Today's Top Real Estate News
Provided by RISMedia News
09/21/2021
What to Do If You Think Your Home Renovation Contractor Made a Mistake
September 21, 2021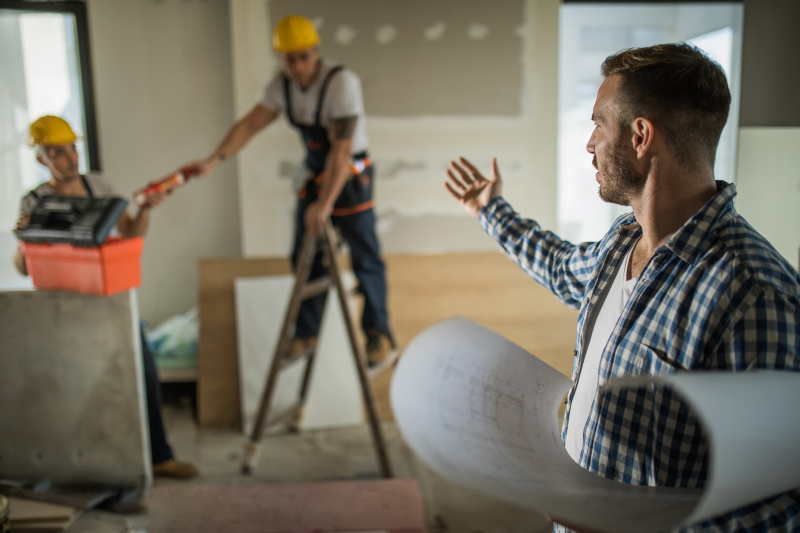 Renovating your home can be stressful even under the best of circumstances. A contractor's mistake can add to your frustration and cause unforeseen delays. There are several ways to address the situation, depending on the specifics.
Try to Resolve the Issue
If you believe a mistake was made, address it immediately with the person leading the team. Refer to the details in the contract describing how the work was supposed to be completed to support your position. Stay calm and be polite, but make it clear that the error is unacceptable and needs to be corrected.
If you believe it was an honest mistake and are confident that the team can fix it themselves, you can give them an opportunity to do so and set a deadline. There should be no additional cost to you. In some states, a homeowner who believes a contractor made a mistake and who doesn't trust the company to fix it can hire a different contractor to correct mistakes made by the original contractor.
You should always make sure a contractor has adequate liability insurance coverage and is bonded before you sign a contract. Liability insurance and/or a bond can pay for damage caused by workers' mistakes.
If the contractor is unwilling to fix the error or says it will take an unreasonable amount of time, you can withhold payment until repairs have been made. You may also decide to fire the company.
When to Seek Outside Help
If you believe the contractor is dishonest or performing substandard work, you can file a complaint with the body that licensed the company. Sometimes just threatening to file a complaint is enough to motivate contractors to fix their mistakes. You can also file a complaint with the Better Business Bureau.
Some states collect fees when contractors obtain licenses. That money goes into a fund to compensate homeowners who suffered damage due to contractors' mistakes. Find out if your state has such a fund.
Home remodeling contracts sometimes contain a mandatory arbitration clause. In that case, you may be able to have the issue addressed without hiring an attorney.
You might also consider suing the contractor in small claims court. Limits on dollar amounts for small claims cases vary by state. If your damages fall below that threshold, you can sue the contractor yourself. For a case with a larger financial loss, you may need to hire an attorney. The contractor might be willing to agree to a settlement to avoid a lawsuit.
Choose the Best Solution for Your Case
Sometimes contractors make honest mistakes, but in other cases, they cut corners and take advantage of people who placed their trust in them. If you believe a contractor made an error, understand all your options and seek professional advice.
Published with permission from RISMedia.
What to Look for in a Daycare
September 21, 2021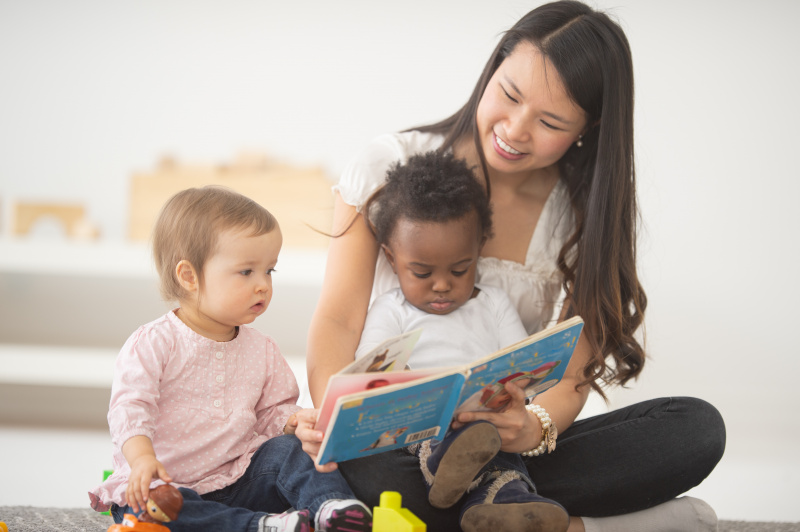 (Family Features) For first-time parents or even families with multiple children, the decision to place your little bundle of joy in someone else's care can be a difficult one. However, the benefits of daycare can be significant, especially for children who start a program as infants.
A high-quality early childhood program not only promotes children's safety and well-being, but also supports their growth and development at a critical time in life as children's brains develop more rapidly from birth to age 5 than any other time in their lives.
"The pressure on families to do what's best for their children while balancing the need to safely return to consistent routines is immense," said Dr. Elanna Yalow, chief academic officer of KinderCare Learning Centers. "Many families have concerns about possible health risks to their children. At the same time, there is extensive data that demonstrates children are actually safer and better off developmentally when they are around other children. It's no wonder so many families feel conflicted. Rigorous safety protocols give families confidence they can count on our programs to protect their children and help them thrive."
Consider these things when seeking care for your infant:
Safety First
Ensure the providers you're considering follow Centers for Disease Control and Prevention, American Academy of Pediatrics and local health department guidelines. Beyond COVID-19 protocols, look for a program with teachers and staff that take pride in keeping children safe, particularly when it comes to safe sleep. Confirm the provider has external validation of their program's quality, like national accreditation.
Responsive Teachers Who Care for Your Baby Like You Do
Caring for young children requires a unique set of skills. Understanding what children need at each age and stage in life comes with expertise and an ability to build relationships with them. It should be clear right away your baby will be in a warm, nurturing environment and supervised by teachers who will respond promptly to your baby's every coo, gurgle, smile and cry with kindness and compassion.
Strong Communication
You'll know you've landed in the right place when your child's teacher and day care staff feel like an extension of your family. To help start things on the right foot, share expectations and preferences with your potential provider early. It's important the caregiver knows how often you want updates and what kind of information is most meaningful to you – whether that includes videos and photos, phone calls or texts, or short notes about the things your child is doing.
They should also be available to answer your questions and ask their own in return to ensure they're supporting your baby in the best way possible while also encouraging your child to develop at his or her own pace. It's important for teachers to understand key milestones and how to support your baby's ongoing growth and development.
When parents know their babies are safe, happy and loved, they can focus on all the other things they need to do. For more information, and tips for finding the right child care, visit kindercare.com.
Published with permission from RISMedia.
Easy-Care Houseplants You'll Find Tough to Kill
September 21, 2021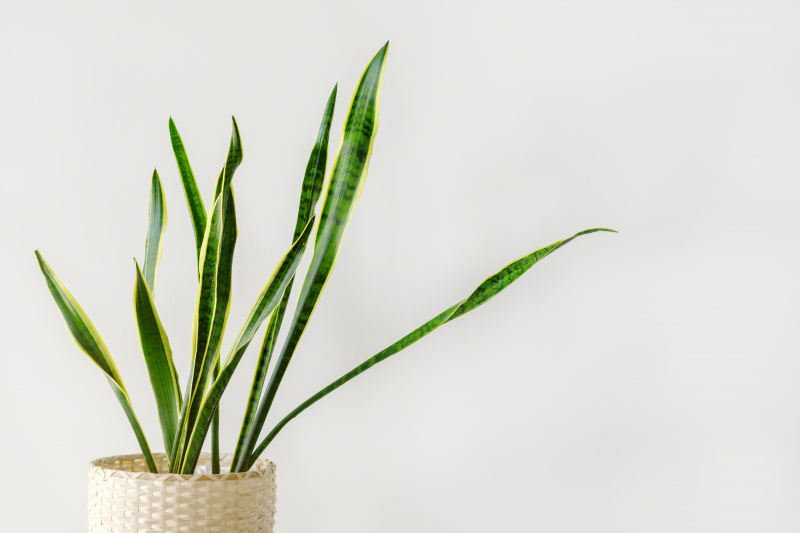 A bit of healthy greenery is a cheery accent for almost any home. But the keyword is healthy, because there are few things sadder than a dead, bedraggled houseplant. If you fear your brown thumb may keep houseplants from thriving, take a tip from the experts on some low-maintenance types that may be willing to take a chance on you.
Jade Plant - If your home has a patch of bright sunlight, this broad-leafed succulent will take it. It does pretty well with infrequent watering and will even reward your spotty care with pink or white flowers in the spring.
Cast-Iron Plant (Aspidistra) - One of the easiest plants to care for, the cast-iron plant tolerates low light and infrequent watering—hence its name! In fact, this one doesn't like lots of sunshine, and its glossy, green leaves will grow up to two feet tall.
Snake Plant - Although the snake plant prefers bright light, it will endure in low light and can live in just about any room of the house. A little accidental neglect in watering will not kill it, and despite being named for a viper, this West African native is an air-cleaning dynamo that is easy on the eyes.
Peace Lily - Peace lilies require little sunlight and don't require frequent watering. Put them in a large pot and they will reward you with flowers in spite of your spotty care.
Watermelon Peperomia - The green and silver stripes on this beauty's leaves will remind you of watermelon, plus the plant doesn't require much direct sunlight or watering. Native to South America, the watermelon peperomia grows tiny, green flowers in the spring.
Chinese Evergreen - Happy even in dry environments and partially shady locations, the Chinese evergreen doesn't often flower indoors, but the unique patterns of pale and dark green on its broad leaves make for a stunning display.
Oregano - Not just a flavorful herb, oregano makes for a great houseplant. It has great drought tolerance, doesn't mind a bit of shade, and if you're of a mind to, you can pluck a few stems and use them as a tasty flavoring in soups or stews.
Published with permission from RISMedia.
How to Add Your New Spouse to Your Mortgage
September 20, 2021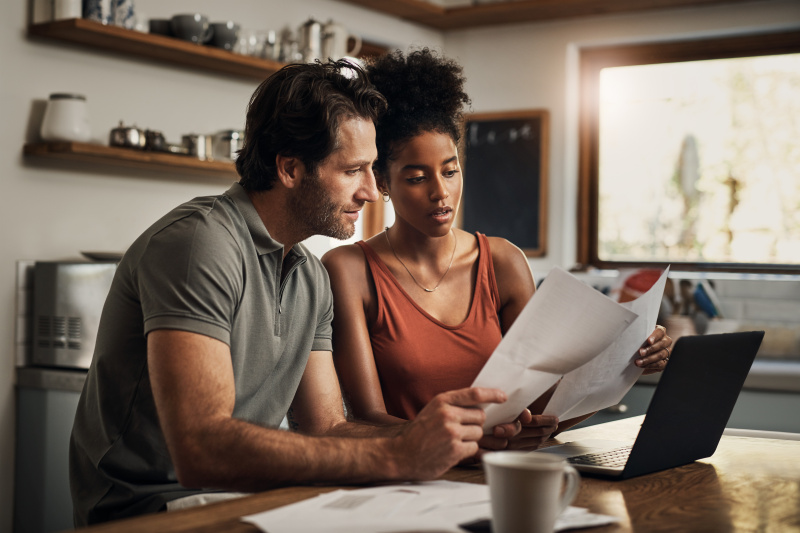 If you own a house and you recently got married or are planning to soon, you and your new spouse may want to share the cost of the mortgage. You might think that you can simply contact your lender and add your spouse's name to the mortgage, but the process is actually more complicated than that.
Why You'll Need to Refinance Your Mortgage to Add Your Spouse's Name
Any time a change is made to an existing mortgage, a refinancing process is required. Before the lender agrees to add your spouse's name to the loan, the company will want to make sure that the two of you will be able to repay the loan. That means you and your new spouse will need to demonstrate that you're both creditworthy.
How the Process Works
Before you try to make any changes to the mortgage, your spouse should request copies of his or her credit reports, check them for errors and dispute any inaccurate information. Then you can contact your lender and explain that you want to add your spouse to the mortgage.
You'll have to fill out an application and submit documentation showing both your incomes and assets. The lender will consider that information, as well as how much home equity you currently have and the type of loan, to decide whether to refinance the mortgage.
Whether you stick with your current lender or apply for a mortgage from a different company, you aren't guaranteed an approval just because you were granted a loan in the past. If a lender approves the application, any future mortgage statements will include both your and your spouse's names.
Potential Problems
Whenever a mortgage is refinanced, the homeowner(s) have to pay for an appraisal and closing costs. Those could total thousands of dollars that you might not have been expecting to pay.
If your spouse has a low credit score because of high credit card balances, late or missed payments, bankruptcy, or foreclosure, the mortgage application could be rejected. The lender might decide to approve the application but charge a higher interest rate than you had for the initial loan, which could raise your monthly payments. Refinancing the mortgage could also change the payoff date.
Is Adding Your Spouse's Name to Your Mortgage the Right Move, Right Now?
When planning a life with your new spouse, it's natural to want to share expenses, but things can be complicated if you have different financial circumstances. Before you add your spouse's name to your mortgage, make sure you understand how his or her financial situation could affect the terms of the loan. If your spouse has bad credit, it might be a good idea to wait until he or she has had time to bring up the scores before you seek a joint mortgage.
Published with permission from RISMedia.
Simple, Sweet Energy Bites
September 20, 2021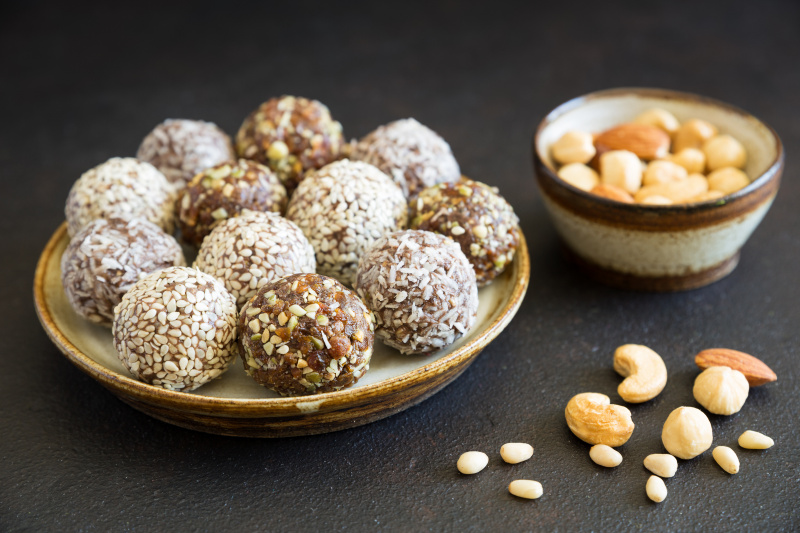 (Culinary.net) Having enough energy and fuel to make it through a long day can be challenging. No matter if you're a stay-at-home parent, corporate worker or small business owner, having a high energy level that lasts throughout the day is important for both you and those around you.
Having enough energy helps you stay alert and attentive to what is going on around you, whether that's cleaning up after your little ones or filing a report your boss asked for.
When it comes to snacking during the day, these delicious, mouth-watering Energy Bites can give you the boost you need. They are made with creamy peanut butter and honey to curb your sweet cravings but still provide plenty of texture with shredded coconut and raw oats.
They are a perfect snack time nosh, rolled into simple balls, that can help you finish the task at hand.
Not only can they be that 2 p.m. pick-me-up, they are also simple to make and simply delightful to eat. You can store them in the refrigerator in a container for anytime snacking. Plus, the recipe makes 20 servings, which means it's easy to prep your snacks for the entire week ahead of time.
Stop settling at snack time for stale crackers or high-calorie dips. Eating something that can make your body feel good and energize you for the rest of the day keeps you prepared for what's to come.
Find more snack recipes at Culinary.net.
If you made this recipe at home, use #MyCulinaryConnection on your favorite social network to share your work.
Energy Bites
Servings: 20
1/2 cup creamy peanut butter
1/3 cup honey
1 teaspoon vanilla extract
1 cup raw oats
1/2 cup sweetened shredded coconut
1/2 cup flaxseed meal
6 tablespoons mini chocolate chips
In a medium mixing bowl, stir peanut butter, honey and vanilla extract until combined.
Add oats, coconut, flaxseed meal and chocolate chips. Mix until combined.
Shape into 1-inch balls. Store in an airtight container in the refrigerator until ready to serve.
Published with permission from RISMedia.
Here's What's Hot in Autumn Home Decor
September 20, 2021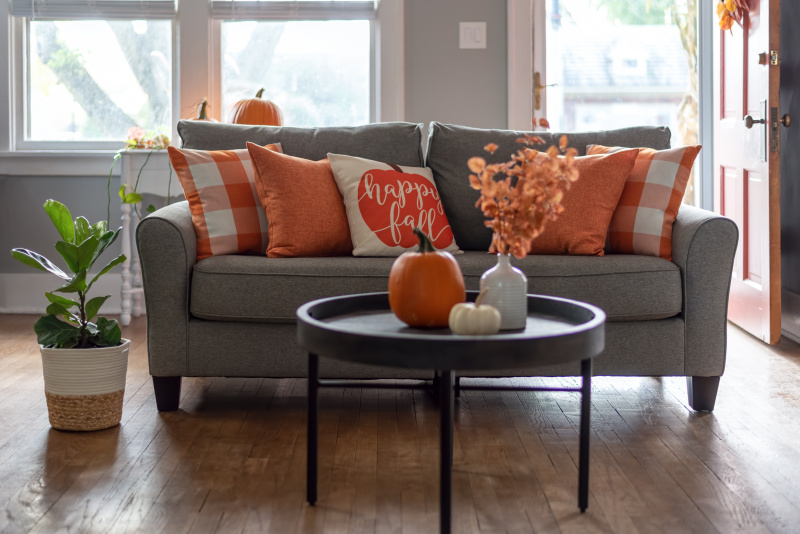 As summer gives way to shorter days and cooler evenings, there is a universal yen to cozy up, hunker down and look for comfy pieces and deeper hues for your home. Decorators offer a palette of ideas for doing a little autumn re-shuffling.
Bauhaus Retro - Paying homage to the Bauhaus, a German design school that boomed during the 1920s, this warming look brings in geometric shapes and bold block color. Think bedroom and family room accents of royal blue, mustard yellow and slate gray hues for this contemporary update.
Ramp Up the Reds - No colors in the spectrum are as warming as carmines, scarlets and crimsons as we head into cold nights. Go for a riot of red tones to turn up the heat in your bedroom. Mix plain and patterned designs in your decorative cushions and throw blankets.
Bring in Rustic Touches - Now's the time to change out your sideboard and shelving displays, grouping together assortments of baskets, wooden pieces and rustic handcrafted trinkets. Plus, macrame is back, so bring out those hanging pots, too!
Introduce Texture - Like the return of macrame, styles from the '70s like rattan, cane and bamboo are making a comeback, but in a modern, minimalistic way, with curved shapes, tapered legs and clear, defined lines. Introducing these natural textures in a warming color palette will make a living or family room feel cozy.
Top Up the Tableware - Fall is a good time to treat yourself to a new pottery teapot and more. Bring in rough-hewn earthenware mugs and cereal bowls in warming earth tones. Simply add some hot chocolate or a hot stew and you're good to go.
Try a Two-Tone Effect - To instantly warm up a bedroom or living room, paint one wall in a jewel-tone fall color, such as warm caramel, loden green, a soothing blue, even ruby red or amethyst.
Enrich With Velvet - This soft-to-the-touch material is the perfect fabric for curling up with or on, so if you don't want to invest in a new sofa or chairs, just deck out the ones you have with velvet pillows to make an evening by the fireplace even more relaxing.
Published with permission from RISMedia.
7 Tips for Using Your Food Processor
September 17, 2021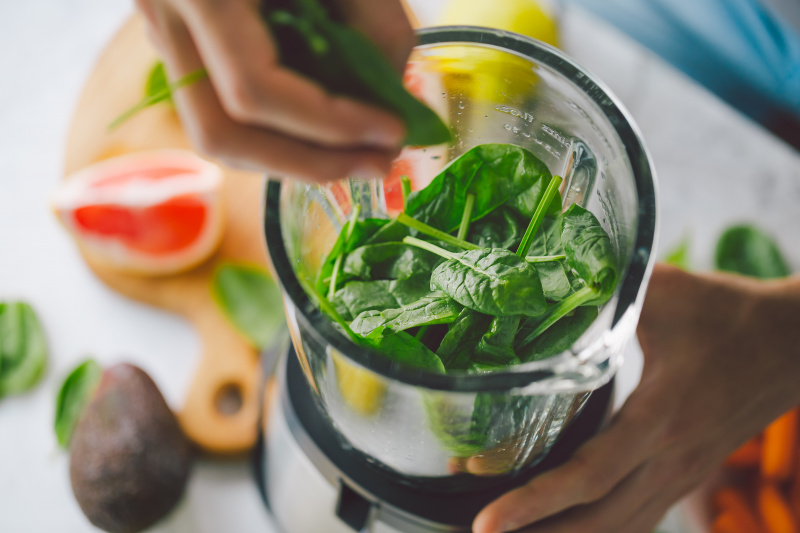 Food processors are one of the most helpful kitchen appliances. Whether you need to slice, dice, chop, shred or purée a host of ingredients for a meal, large or small, the handy machine can get the job done quickly with the press of a button. Depending on which model you have, a food processor also typically takes up little space on your kitchen counter or in your cabinets.
To help you get the most out of your food processor, Consumer Reports offers these seven tips for using the kitchen appliance:
Always insert the blade before adding food.
Set the blade in the work bowl, and make sure the bowl is fitted on the motor base before putting in ingredients. If the blade isn't sitting correctly, the appliance could break.
Use the pulse button.
This function gets you an even chop without the risk of overprocessing. Otherwise, onions and other foods with a high water content can quickly turn into a purée. Use this for chopping nuts or making salsas.
Let hot liquids cool down.
For your safety, bring hot ingredients to room temperature before processing.
Purée soup ingredients without stock.
Strain out the cooked vegetables from the stock pot, and purée them in the food processor. They'll blend smoother without liquid. Then whisk the purée back into the strained liquid.
Partially freeze meats and cheeses.
Before processing, get the ingredients really cold, but not frozen solid, for the best ground meat and shredded cheese.
Be patient when making nut butters.
The longer you process, the softer and silkier the butter will be.
Avoid "mashed" potatoes.
Here's an instance where the food processor won't come in handy. Cooked potatoes develop a gluey texture when processed with the metal blade. You'd be better off using a stand mixer to make this dish.
Published with permission from RISMedia.
Simple Tips to Tackle Credit Card Debt
September 17, 2021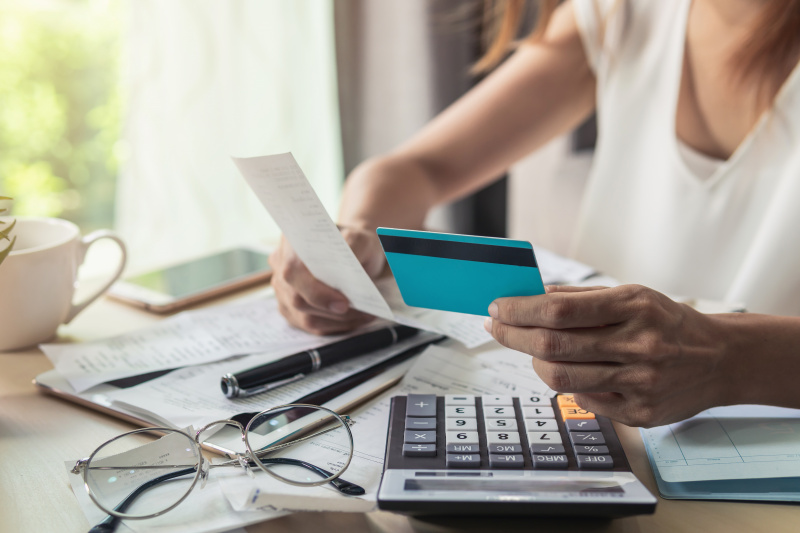 Credit cards are convenient for shopping and can come in handy during emergencies, but unless you're careful, it's easy to rack up debt fast. If you're one of the millions of Americans that hold credit card debt, the following tips from the National Association of Personal Financial Advisors will help set you on your way to living debt-free:
Hit the Pause Button.
Take a look at exactly what you're spending during any given month, and determine if there are any automated payments that can be eliminated or paused temporarily while you work to pay off your debt. You might even consider putting off large expenses for one year to help you pay your debt off faster.
Reduce Interest Rates.
Once you've taken stock of all the credit cards in your wallet, as well as interest rates and minimum payments, call your credit card companies to see if there's any chance they could waive late payments or reduce interest rates.
Work Toward Eliminating Your Most Expensive Card First.
While it's important to pay the monthly minimum on all cards to avoid fees, any leftover money should be applied to the card with the highest interest rate. Once you've paid this card off, apply the same strategy to the card with the second-highest interest rate while making minimum payments on all other cards. Repeat the process until all of your credit cards have been paid off.
Create a Written Budget.
Putting pen to paper and creating a written budget will go a long way toward helping you stay out of debt in the future. Be sure to include an emergency fund in your budget so that you're financially prepared should you experience a job loss or health crisis. And don't forget to check in with your budget each and every month.
Set Goals and Keep Your Eye on the Prize.
Whether it's saving for a down payment or preparing to go back to school, write down your goals so that you're more driven to reach them. Remember that the changes you're making now will help you reach your goals well into the future.
Published with permission from RISMedia.
5 Steps to Design a DIY Dream Closet
September 17, 2021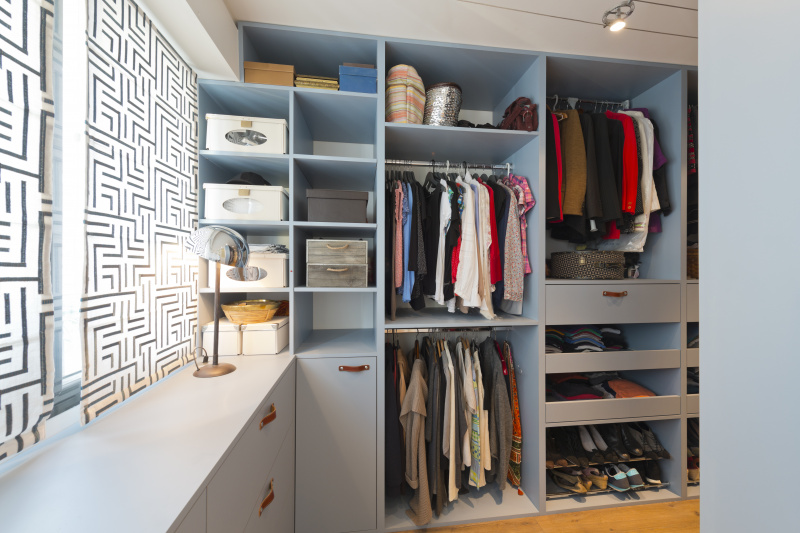 (Family Features) Whether you're a stylist with an eye for fashion who chooses each garment carefully or the laid-back type who can rock the first outfit you find each morning, the closet provides a location for inspiration. Turning bland closet space into a truly eye-catching room calls for a little planning and DIY creativity.
Plan It Out
Creating the perfect closet space begins with your ideas. Think about the details such as how you want the space to look and the amount and type of storage you need. Envision everything from colors and finishes to the physical shape.
Focus on Practicality
Once you've dreamed up your ideal closet, compare your ideas with the space you have available and adjust your plans to fit your footprint and budget. This step allows you to get creative with ways to maximize your space and use every available inch to create a closet that gives you the function and aesthetic you desire.
Keep It Organized
A beautiful closet likely won't mean as much for you if it isn't functional, and organization is a key to true functionality. Keep your space organized in a stylish manner with an option like the ClosetMaid Revolution Storage Ottoman, a convenient, easy-to-assemble, multi-use piece designed for closets or any area of your home. Able to hold up to 12 pairs of shoes, its rotating design maximizes storage for functional appeal.
Remain Detail-Oriented
It's not just the structure that can bring your dream closet to life; little touches can add up in a big way. Upgrade your light fixture, for example, and look for other ways to personalize the space for a look that's all yours, such as shelving to display treasured photos or keepsakes, or a spot on the wall for a vision board to draw inspiration from as you begin each day.
Change Up the Color
Introduce light and personality into your closet with rich color and style. Add accent color on the walls behind your clothes or incorporate color with the structural elements. On-trend finishes can help make the space pop by complementing the colors of your wardrobe.
Visit closetmaid.com to find more DIY closet inspiration.
Published with permission from RISMedia.
6 Security Tips for Your New Home
September 16, 2021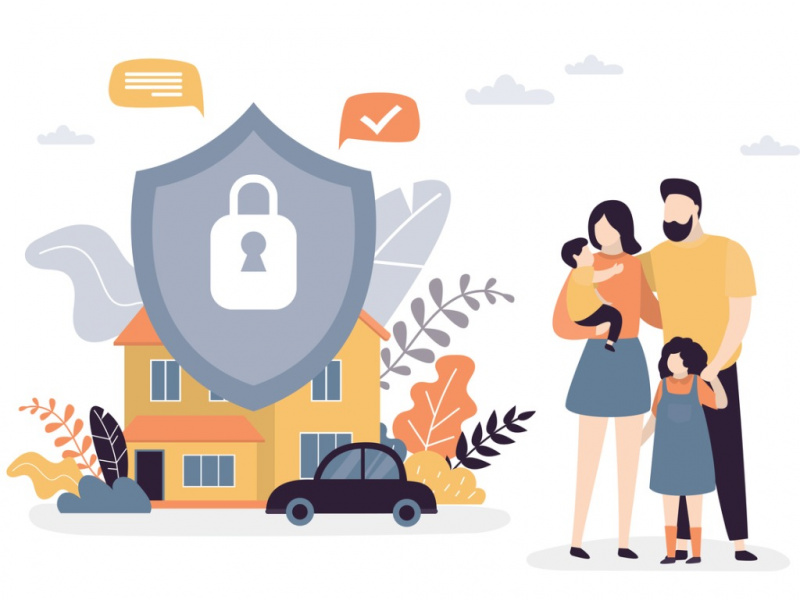 Buying and moving into a new home is exciting, but it also requires a lot of attention to detail, from closing the deal to figuring out the logistics of getting all your belongings from point A to point B. Amid all the excitement, planning and unpacking, many new homeowners overlook one essential factor: the security of their new house.
If you're moving, consider these six tips from the home security experts at ADT to help keep your family and your property safe and secure:
Change the Locks.
You never know who lived in your property before you moved in. Do yourself a favor and change the locks regardless of the situation.
Transfer or Invest in a Security System.
There's no better way to ensure your home is secure 24/7 than installing a home security system. Burglar-proof your house by adding video surveillance and motion sensors for complete security. If there's already a security system in the house, have it properly looked over and reactivated. If you'd like to bring the security system that you're currently using to your new house, consider relocation services.
Install Indoor and Outdoor Lighting.
Don't stand out as the "new neighbor" by being the only dim house on the street at night. Keep your family protected by making your house look occupied at all times using light automation.
Keep Your Outside Area in Excellent Condition.
Did you know burglars see the exterior of your property as a bullseye? If your lawn is unkempt or you have large shrubbery, burglars will see that as an invitation to break in.
Talk With the Neighbors.
Having trusted neighbors can immediately make living in a new place much safer. They may be able to help keep your house look occupied while you're away by simply picking up the newspaper, shoveling your walkway, etc.
Remind Your Kids to Be Cautious.
Moving to a new neighborhood means a lot of unfamiliar faces for you and your family. Make sure your children are aware that they should never let a stranger into the house, leave the garage door up when they come in or go exploring too far until you're more familiar with the area.
By taking care of these security measures when moving, you can turn your focus to truly enjoying your new, safe home.
Published with permission from RISMedia.