Today's Top Real Estate News
Provided by RISMedia News
08/14/2020
How to Protect Your Lawn in the Heat
August 14, 2020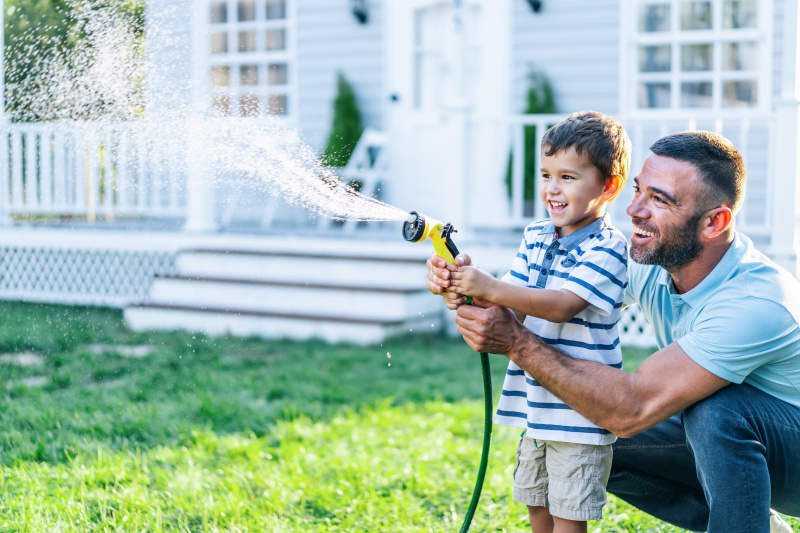 All your hard work in creating a beautiful, lush lawn, can quickly go to waste in times of excessive heat and dryness. If you keep just a few simple things in mind, however, you can help ensure your grass holds up when conditions get tough.
1. Don't walk on dry grass.
Well-watered blades of grass will bounce back when you walk on them. Dry grass, however, will stay tamped down when trodden upon. So when you're in a dry stretch, try to avoid walking on your lawn. Keep in mind, too much foot traffic is also a problem when the grass is wet as it can cause the soil to become compacted, which prevents air from getting to grass roots.
2. Check your mower blade.
If your lawn mower blade is dull, it will shred the grass, causing it to lose moisture. Shredded tips will also turn an unsightly brown. Make sure your blade is sharp so you can get a clean cut, and keep it at one of the highest settings to maintain taller grass. Tall grass means deep roots that can reach moisture hiding further down in the soil.
3. Water in the morning.
The ideal time to water your lawn is between 6 am - 10 am. Watering during this time frame prevents water from evaporating too quickly (like it would in the middle of the day) and gives your lawn a chance to dry before nightfall. Watering at night makes your lawn prone to disease.
4. Time your fertilization.
If you have a stressed, dried-out lawn on your hands, avoid feeding. Fertilize before the peak of your hot season, then again once things cool off and the rain returns.
Source: Scotts
Published with permission from RISMedia.
Your Best Strategy for Curb Appeal? Your Yard
August 14, 2020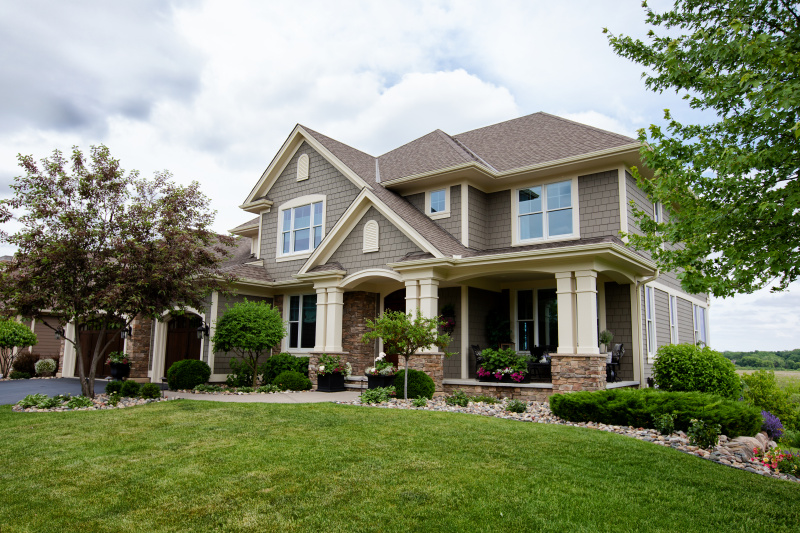 Obviously, when buyers are searching for a home, the house itself is top priority. But when it comes to choosing among similar houses, your yard can help make your home stand out over others. Here are some tips for creating a yard that boosts curb appeal and lets your home shine.
Take your house into consideration.
Create gardens based on the style and architecture of your home. Have a contemporary home? Go with a minimalist landscape or a Japanese garden design. Have a farmhouse? Choose a cottage garden with an informal design, and traditional and dense plantings.
Keep things in proportion.
If your home is large, small, dainty flowers won't showcase it properly. Instead, use plants in a repetitive fashion, such as rows of shrubs. Conversely, if you have a smaller home, make sure it's not overwhelmed by large shrubs and overgrown plantings. Make sure your garden complements the shape and size of the house.
Pay attention to hardscaping.
While your lawn and plantings understandably take center stage in your landscape, your hardscaping can make all the difference. Take the time to clean or update walkways, front steps, gravel paths, slate patios, garden borders, etc. Then consider adding elements like a bird bath, garden bench or stone fire pit. Attention to detail when it comes to your yard's hard surfaces can make or break your lawn, trees and garden beds.
Make your front door the star.
Nothing says curb appeal better than a welcoming, attractive passage to your front door. Make the path natural and intuitive so guests easily know how to get to your front door. Accentuate the door or key points along the path with plantings and lighting.
Don't forget about the seasons.
Your landscaping may look great in summer, but how does it fare in winter? Make sure your yard is adorned with trees, shrubs and evergreen selections that add structural interest and a healthy dose of green even on the dreariest winter day.
Published with permission from RISMedia.
How to De-Stress in Stressful Times
August 14, 2020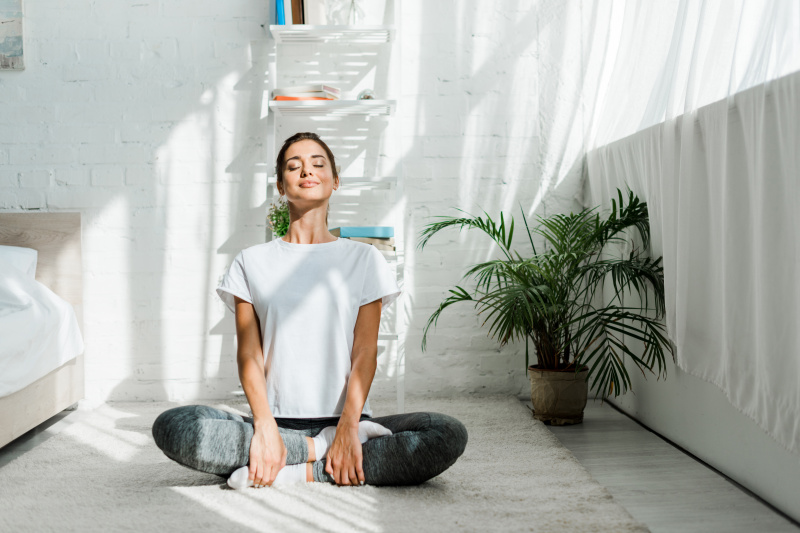 A certain amount of stress from time to time is to be expected given the demands of work and family. However, the type of stress that is triggered by outside events beyond our control can be much more difficult to manage compared to everyday stressors. Here are a few strategies for staying calm when the world around you is anything but.
Be more selective on social media.
While social media sites are an important way of staying informed, waking up to a news-feed of alarming news and extreme opinions can be unsettling to say the least. If scrolling through your social feeds changes your mood for the worse, unfollow accounts or block contacts that trigger negative emotions. Instead, try following positive-news sources, your favorite comedians, nature or animal accounts, or inspirational leaders. This will help give you a break from the current stress around you.
Spread some good will.
One secret to reducing your own stress, is to be there for someone else. Sharing simple words of support and inspiration as well as random acts of kindness with everyone from your family to your coworkers to the pizza delivery guy, not only brightens someone else's day, it creates an important sense of calm and connection for you. Of course, you could take this strategy a step further by volunteering in your community. Remembering that you're not alone in a stressful situation is one of the best ways to maintain perspective and balance.
Be thankful.
When the world around us is troubling and we've been dealt some difficult blows, it may seem impossible to feel a sense of appreciation. However, research proves that taking time each day to remember what we have to be thankful for is key to boosting your mood and putting you in a better frame of mind. All you need is a notepad or journal, or take it a step further and download an app that will help keep you accountable to your daily gratitude practice.
Get moving.
The powerful endorphins that come with exercise cannot be underestimated. And thanks to our acclimation to the world of video conferences, you can get your daily dose of movement right in your own home with virtual fitness classes. What's essential to remember is that you don't need to be an Olympic athlete to get the mood-boosting benefits of exercise. A simple walk will do the trick!
Published with permission from RISMedia.
Support Your Immune System With Grapes
August 13, 2020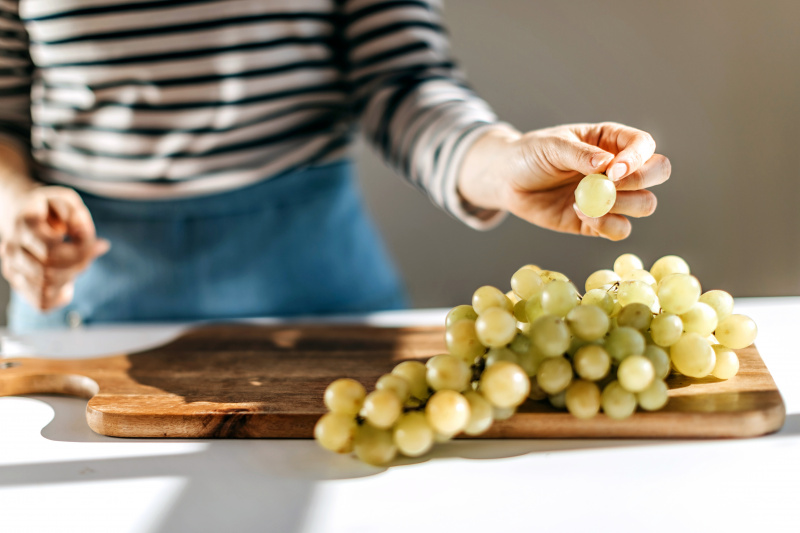 (Family Features) Boosting immune function through a healthy diet has become an important new focus for many people these days. One key dietary recommendation is to eat more fruits and vegetables each day to improve immune function and prevent heart disease and diabetes. When looking to guide your family to healthier snacks and meals or simply trying to mix up your at-home menu, success can be as simple as rethinking the ingredients you choose to use, including your favorite produce, such as grapes.
Fresh California grapes, for example, make for an ideal snack because they are tasty, healthy, hydrating and refreshing, but grapes can also be used to make good-for-you dishes that are also satisfying and delicious. Grapes of all colors – red, green and black – are a natural source of beneficial antioxidants and other polyphenols. Plus, they are naturally fat-free, cholesterol-free and contain virtually no sodium.
Try recipes like Moroccan Grape and Grilled Chicken Bowls with Grape Vinaigrette, Spiced Chickpeas and Grapes with Yogurt, and Cauliflower Steaks with Grapes to pair heart-healthy grapes with other nutritious ingredients and add variety and fresh appeal in the kitchen.
Visit GrapesFromCalifornia.com for more nutritious family recipes.
Spiced Chickpeas and Grapes With Yogurt
Prep time: 15 minutes
Cook time: 5 minutes
Servings: 4
1 can (15 ounces) chickpeas, rinsed, drained and patted dry
1 cup California grapes
1 tablespoon peanut oil
1 1/2 teaspoons mustard seeds
1 teaspoon cumin seeds
1 teaspoon fennel seeds
1/4 teaspoon salt, divided
1 pinch red pepper flakes
1 cup low-fat Greek yogurt
1 tablespoon lemon juice
1/2 teaspoon finely grated lemon zest
1/2 garlic clove, grated
2 tablespoons chopped cilantro
2 tablespoons thinly sliced scallions
In a large bowl, mix chickpeas and grapes.
In a small skillet, warm oil over medium-high heat until shimmering. Add mustard seeds and cover. Cook until seeds stop popping then add cumin and fennel seeds; cook until fragrant, about 1 minute. Stir in 1/8 teaspoon salt and pepper flakes; pour over chickpeas and grapes. Mix well.
In a separate bowl, stir yogurt, lemon juice, lemon zest, garlic and remaining salt. Spread on a serving platter and top with chickpea mixture, cilantro and scallions.
Nutritional information per serving: 220 calories; 11 g protein; 31 g carbohydrates; 6 g fat (25% calories from fat); 1.5 g saturated fat (6% calories from saturated fat); 5 mg cholesterol; 280 mg sodium; 1 g fiber.
Cauliflower Steaks With Grapes
Prep time: 10 minutes
Cook time: 30 minutes
Servings: 4
1 large head cauliflower, leaves trimmed off
3 tablespoons extra-virgin olive oil, divided
2 teaspoons finely chopped rosemary
1/2 teaspoon coarse salt
1/2 teaspoon freshly ground black pepper, divided
1 cup halved California grapes
1/4 cup chopped Castelvetrano olives
2 tablespoons chopped Italian parsley
2 tablespoons chopped, toasted pistachios
Heat oven to 450 F.
Cut stem off cauliflower and cut remaining head crosswise into four 1-inch-thick slices, keeping as intact as possible. Place on a sheet pan and brush sides with 1 1/2 tablespoons olive oil. Sprinkle it with rosemary, salt and 1/4 teaspoon pepper. Roast until browned and tender, about 25 minutes.
Combine remaining olive oil, remaining pepper, grapes, olives, parsley and pistachios. When cauliflower is roasted, transfer to serving plates and top with grape mixture.
Nutritional information per serving: 210 calories; 5 g protein; 20 g carbohydrates; 14 g fat (60% calories from fat); 2 g saturated fat (9% calories from saturated fat); 0 mg cholesterol; 480 mg sodium; 5 g fiber.
Healthy Eating is Easy with Grapes
Grapes are prized for their taste and crisp, juicy texture, but fresh grapes are also a heart-healthy, hydrating snack choice. Grapes contain more than 1,600 natural plant compounds, including antioxidants and other polyphenols, which help protect the health and function of the body's cells. Grapes can be paired with other healthy foods to enhance flavor and nutrition, including dark leafy greens, cauliflower, broccoli, whole grains, legumes and lean proteins.
Published with permission from RISMedia.
4 Ways to Save on Your Utility Bills...Even With a Full House
August 13, 2020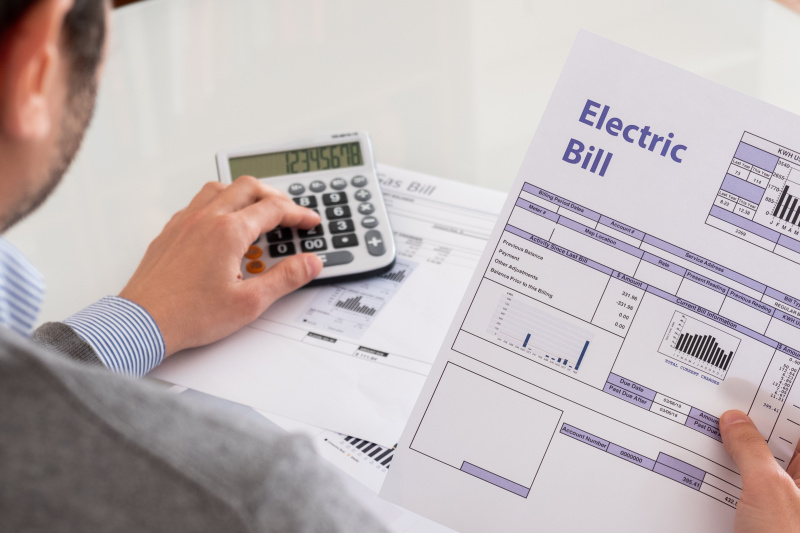 If you're spending more time at home, as well as accommodating more family members than usual under your roof, you may be seeing an increase in your utility bills. But don't despair! There are several simple strategies you can implement to save on energy costs, even with a house full of people—just make sure everyone's on board and follows suit!
1. Lower/raise your thermostat.
Heating and cooling is typically a home's biggest expense. If you've got the heat on, lower the thermostat by a couple of degrees, and do the opposite if you're running the air conditioning—raise the temperature a degree or two. According to the Department of Energy, you'll save about 3 percent for every degree you lower/raise...that adds up quickly! A programmable smart thermostat will make this a seamless process as you can set it to automatically readjust during certain times of the day.
2. Decrease oven usage.
Don't turn the oven on to cook a small meal or warm something up. Use a toaster oven, outdoor grill, slow cooker or microwave instead. When you do need to use the oven, avoid opening the oven door as much as possible; every time you do, heat is released and the cooking time is extended. Of course, the best idea of all, is to add a couple of cold dishes to your dinner schedule. Consider a weekly "sandwich night" or integrate some healthy but satisfying salad mains to your repertoire.
3. Don't overtax the fridge.
Keep the refrigerator door closed as much as possible by encouraging family members not to open the door for random perusing. Grab all the items you'll need for a dish in one shot, instead of going back and forth. You'll also save energy costs associated with your fridge by letting leftovers cool off on the counter before putting them away.
4. Maximize laundry time.
There are a few tricks that will help you save on energy costs related to doing laundry as well. For instance, use the maximum spin time when you can to remove as much moisture as possible in order to cut back on drying time. You can also make your dryer more efficient by cleaning the lint screen to improve air circulation. Get in the habit of using the dryer sensor to let you know when clothes are done, as opposed to setting a specific dry-time.
Source: Consumer Reports
Published with permission from RISMedia.
5 Great Vacation Traditions
August 13, 2020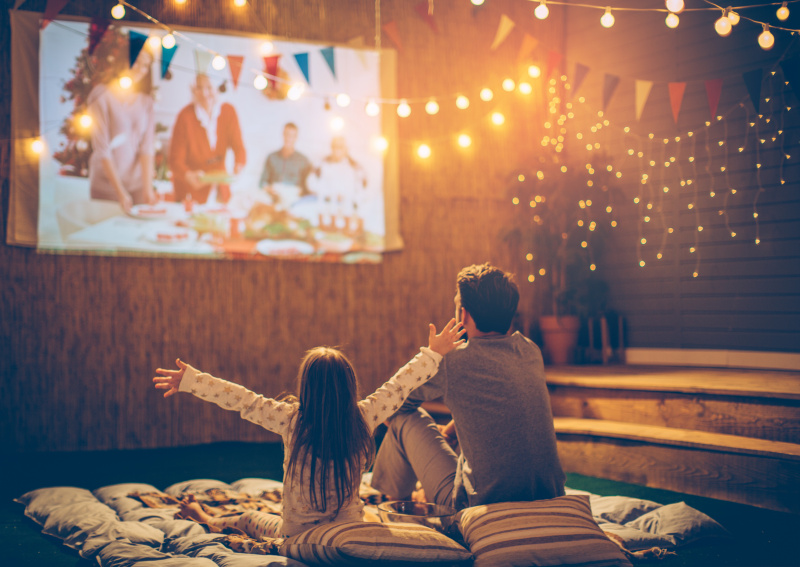 Even if your vacation this year only takes you as far as the backyard, you can make it a memorable one by creating simple yet meaningful traditions. Consider these ideas from the vacation-planning experts at VRBO:
1. Hang a sheet and host a backyard movie night.
You can spread out a big blanket for everyone to gather on or arrange a collection of outdoor chairs. Serve appropriate snacks, like popcorn, s'mores and fresh lemonade.
2. Collect memorable quotes.
Some of our best vacation memories are the comical and inspirational moments we share together. Start a quote-of-the-day journal, to record the best quips and words of wisdom from various family members. Review it at the end of your vacation or at other times the family gathers, such as the holiday season.
3. Host a potluck.
Nothing is better than an outdoor pot-luck dinner, where everyone brings a dish so that no one family member is overburdened with the responsibility of cooking and cleaning. Make sure to involve everyone...even the kids...and have fun sampling everyone's creative and sometimes crazy concoctions.
4. Planner for a day.
Whether you're on a road trip or staycation, let everyone play a part by getting to take over the itinerary for the day. The designated planner gets to choose the day's activities, as well as the foods that will be eaten. Giving in to this concept opens up all sorts of possibilities for fun and adventure!
5. Make it an annual occurrence.
Whatever vacation traditions you choose, be sure to make them an annual event. This will give the entire family something to look forward to, cherish and pass down through the generations.
Published with permission from RISMedia.
Smart Start: Savvy Tips to Kick Off a New School Year
August 12, 2020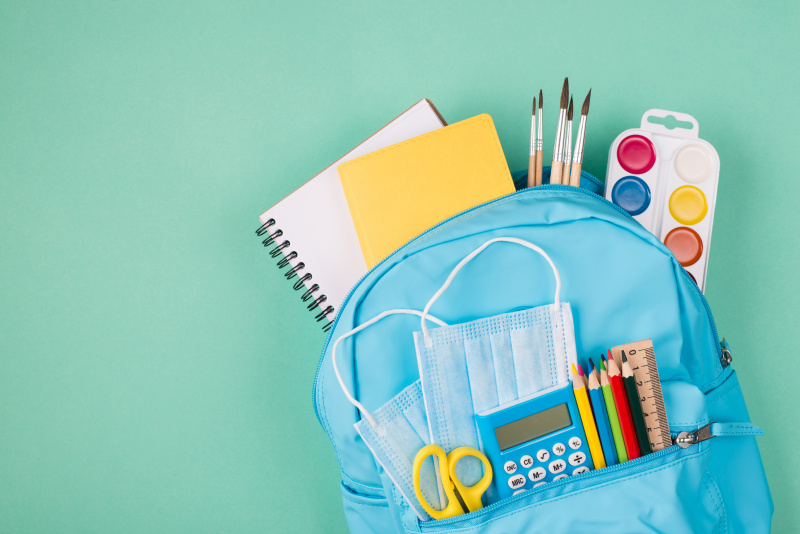 (Family Features) Returning to learning may bring more new experiences this fall than anyone ever imagined. Regardless of the learning environment, there are some tips and supplies that can make it easier on the whole family to restart curriculum.
Whether your kids will be at home or in the classroom, making education easy is likely a top priority as you plan for the weeks and months ahead. These supplies and ideas can help you get organized and ready to tackle a new school year with confidence.
Find more back-to- school tips and solutions at eLivingtoday.com.
Calculate Your Way to School Success
Whether learning from home or the classroom, Texas Instruments has students covered with new additions to its colorful collection of TI-84 Plus CE graphing calculators. Available in colors like "Rose Curve Gold" and "Measure Mint," these math and science machines help students grasp important STEM concepts and succeed on exams. The super-sleek graphing calculator can take students from middle school through graduate school, and can even help them learn to code. Find more school solutions at education.ti.com.
Don't Overlook Organization
Staying organized during school season is a goal for many families, and one of the best ways to do so is with an option like ClosetMaid Mini 6 Cube Organizers, which are refreshed versions of old favorites. Use these organizers, also available in matching offset designs, on flat surfaces or mounted on the wall to store, organize and display any number of small items. Find more solutions for the school year at closetmaid.com.
Make Lunchtime Easy
You can make lunchtime fun, flavorful and easy for your little learner with Sabra Singles, a plant-based snack perfect for kids. Pair with classics like carrots, cucumbers, tortilla chips or pretzels. They're available in varieties like Classic and Roasted Red Pepper Hummus and allow kids to help themselves to make lunchtime a cinch. Find more inspiration at sabra.com.
Better Organization With a Bookshelf
A new school year and the learning it entails calls for plenty of books, which means organization is paramount. Store your student's books and more, like picture frames, with an option such as the Wide 3-Shelf Ladder Bookshelf from ClosetMaid. These sleek and modern units, available in multiple finish colors and sizes, can be easily assembled and quickly ready for use anywhere in your home. Visit closetmaid.com to find additional organization solutions for this school year.
Enjoy a Delectable, Better-For-You Dessert
A long day of reading, math and more deserves a treat to end the school day on a high note. For a delicious option you can feel good about enjoying and serving to your kids, consider fairlife's Light Ice Cream, expertly crafted with ultra-filtered milk and natural flavors to deliver a lactose-free treat with a rich, creamy texture and 40% less sugar than traditional ice cream. Find more information at fairlife.com.
Published with permission from RISMedia.
5 Ways to Save Big on Everyday Essentials
August 12, 2020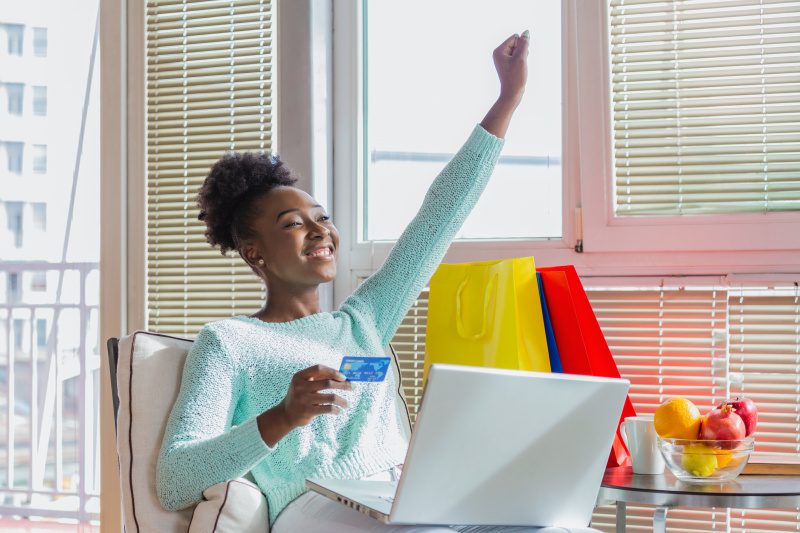 (Family Features) With many Americans spending more time at home, they are also using more common household items such as cleaning supplies, pantry items and snacks, among other things.
According to a Harris Poll survey, Americans are concerned about the economic impact the pandemic will have on their lives. These economic concerns are leading shoppers to seek out more ways to save. With the convenience and flexibility online shopping provides, many customers are turning to e-retailers to find those must-have items.
To help busy and budget-conscious shoppers, Woot!, the Amazon-owned daily deals site, launched a grocery and household category to offer deals on everyday essentials.
Consider these five ways shoppers can save time and money when making household purchases.
Compare prices.
One benefit of shopping online versus in-store is you can look across different brands to compare prices in real time. By seeing available brands and pricing in one place, you can save more and make the best purchase choices for your household.
Take advantage of deals.
When you shop in a store, you're confined to the deals and selection the store is offering at the time of your trip. When you shop online, you aren't limited to the store's offerings, often allowing you to score better deals and browse a larger selection. For instance, you can check out deal sites like Woot.com to get new daily deals on household must-haves on your list for lower prices than you typically find in brick-and-mortar stores.
Save time exploring virtual aisles.
Shopping at a store can be time consuming. Innovations like Woot!'s virtual grocery and household aisles allow you to quickly and easily shop various categories and find the best deals. Unlike in-person aisles, these virtual aisles hide categories when selection is unavailable so you won't waste your time and can be confident items you're looking at are available at a discount.
Customize your shopping experience.
The flexibility and convenience of shopping online can save you time. Since you aren't shopping in-store, you don't have to worry about store hours and locations, giving you the flexibility to shop at all hours and from any location, as long as you have Wi-Fi and access to a computer or mobile device. With the ability to shop around your schedule, you can gain precious time to spend with the people you love, doing the things you love.
Benefit from membership perks.
Another perk of online shopping is being able to leverage membership benefits to save more. Some retailers offer member-based programs or partners to offer members of certain programs discounts. One example is Woot.com, which offers exclusive deals and free shipping for Amazon Prime members who shop on the site.
Between the vast selection, price options and convenience of shopping from home, there are many ways shoppers can save big on time and money as they shop for everyday essentials and household must-haves. Learn more at Woot.com.
Published with permission from RISMedia.
The Best Colors to Add New Life to Your Front Porch
August 12, 2020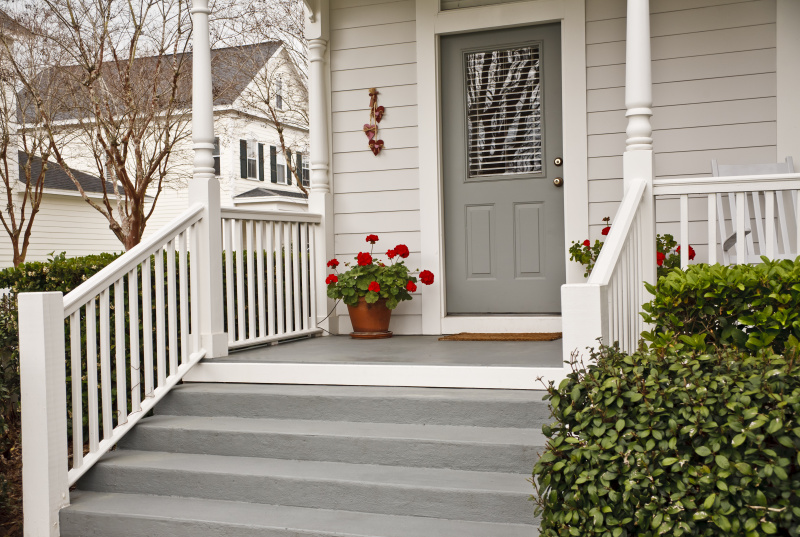 Your front porch is your home's calling card, setting the stage for presenting the rest of your house in its best light, and creating a memorable welcome for visitors. That's why choosing the right decor and, more importantly, the right paint color is a critical step.
According to interior design experts, the best place to start when selecting a front porch paint color is by evaluating your landscaping, looking for colors that complement your grass, trees, shrubs and flowers. Also take into consideration any architectural elements that will come into play, such as brick, stonework, metal gutters and roof details. Any color you choose needs to work well with these various fixed elements.
Color experts also advise taking into consideration your home's exposure. For example, a front porch with southern exposure would be better suited to paler shades of paint, while the lighting from a northern exposure accentuates the cooler tones in a color.
Here are some suggested paint colors to consider:
A muted shade of green
will tie into the greenery surrounding your home to create a pleasing cohesive look, without detracting from your landscaping.
A deep blue paint
will bring a sleek sense of style to your front porch, making your home stand out from the street.
A warm blue
will help offset a stand-out yard and garden. Look for colors that are reminiscent of summer skies.
An off-white shade
is always dependable and brings a crisp, fresh look to your home. Look for a warm but neutral hue that blends nicely with your home's overall exterior.
A silver shade of grey
brings a sophisticated look to your front porch and helps highlight its architectural features. It also works well with just about any exterior color.
Source: Martha Stewart
Published with permission from RISMedia.
Support Students Through Community Programs
August 11, 2020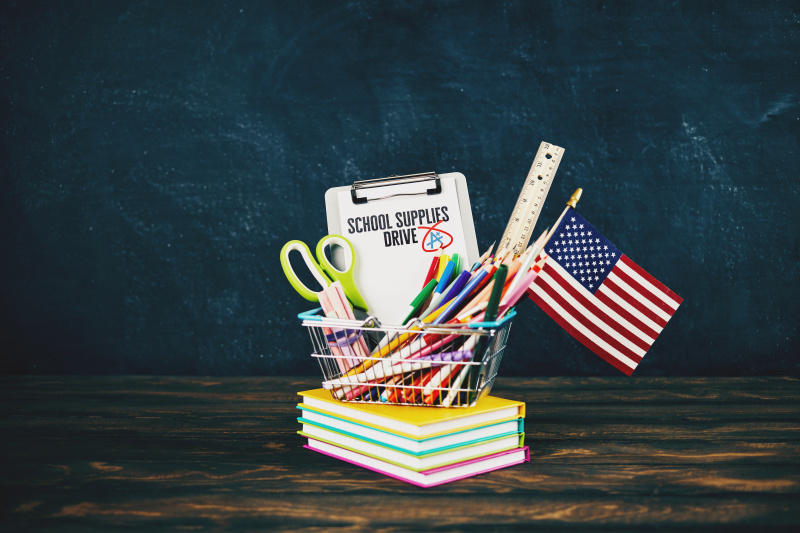 (Family Features) As kids prepare for the upcoming school year, school supplies remain critical to their success. While school districts struggle with the challenge of delivering education and resources to students amid a pandemic, many parents are working to determine how they will ensure their children have the necessary supplies.
Community youth programs are innovating to fill gaps and ensure kids from low-income families in particular are equipped with learning materials and supplies, enrichment activities and food. For example, when schools closed, local corps of The Salvation Army started adapting creative alternatives to their youth programs to provide activities, snacks and educational materials like coloring sheets, scavenger hunts and more to keep kids entertained and learning.
If you'd like to make a similar impact in your community, consider lending a hand in one of these ways:
Tutor or mentor students.
Although most kids across the nation face the same challenges with academics, some are at more of a disadvantage because their access to remote learning resources is limited or parents are unable to assist at home. You can help by volunteering to tutor students as they practice learned skills and get back into the swing of a new school year.
Donate supplies.
There are 30 million children in the United States whose parents will have to choose between buying school supplies or other necessities like putting food on the table. Consider adding extra common items like crayons, markers and glue when you shop for your own children and dropping them off at your local youth center. Campaigns like The Salvation Army's "Stuff the Bus" events allow shoppers to purchase and drop off requested items at collection bins located at the front of participating retailers.
Get involved with extracurricular activities.
If you have a particular skill set or experience, for example as a high school or college athlete, lending your knowledge to a local youth group can help provide a constructive outlet for kids while enriching your own life.
Volunteer for meal distribution.
Many children rely heavily on schools for meals; in fact, the food some students receive through their schools' breakfast and lunch programs may be the only meals they get in a day. Across the country, organizations have partnered with local school districts to provide meal kits, coordinate food distribution routes and pickup locations to get meals to kids and families. Depending on the needs in your area, you may be able to donate food, assist with organizing the meal kits or help coordinate deliveries.
Help fund youth programs.
Uncertainty caused by COVID-19 has many people reconsidering their finances, and that means the donations and contributions many programs rely upon have slowed. If your situation allows, consider a monetary contribution to a youth-oriented cause, which can help deliver programming even if you're not able to volunteer in other ways.
Learn more about getting involved in your community at salvationarmyusa.org.
Purposeful Youth Programs
While many children from low-income families rarely experience life outside of their immediate neighborhoods, youth programs can help kids discover new skills, passions and hobbies while connecting with others in a safe, healthy way.
Along with community centers dedicated to supporting the physical, emotional and spiritual growth of moms, dads and kids, organizations like The Salvation Army provide after-school programs for students of all ages and numerous music, art and athletic programs at its 7,600 centers across the country.
The organization's "Stuff the Bus" program also helps make activities and programs more accessible to low-income youth in local communities, including:
After-school programs offer homework assistance and counseling for children of all ages, as well as one-on-one assistance with homework, study skills and literacy advancement. Dance, art and music programs are offered in no- or low-cost environments. Classes range from choir, band and dancing to drawing, writing and acting.
Sports, clubs and extracurricular activities give children from low-income neighborhoods a chance to play team sports and learn valuable athletic and life skills.
Parental involvement coaching equips parents with the skills needed to support and sustain their children's educational needs.
Published with permission from RISMedia.