Today's Top Real Estate News
Provided by RISMedia News
07/02/2020
10 Household Cleaning Tricks Using Vinegar
July 2, 2020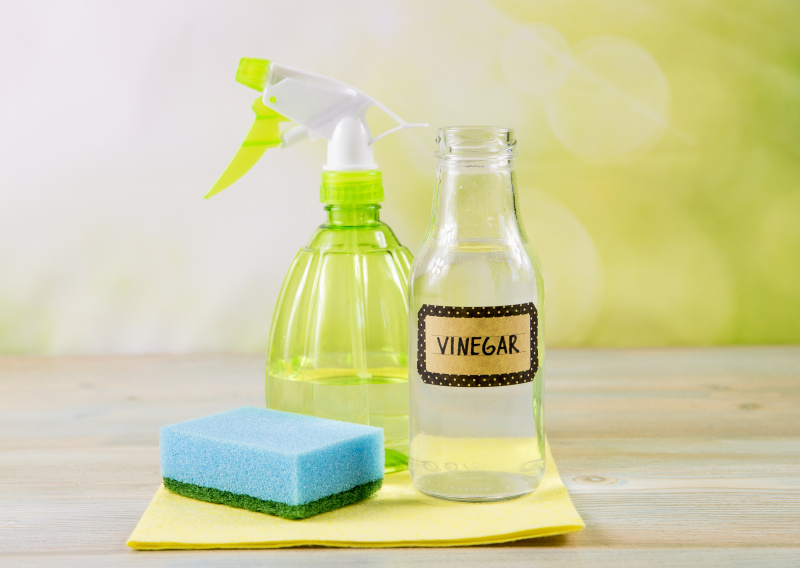 Commercial-grade cleaners may make your home sparkle, but many have chemicals that can be hazardous. If you want to clean your home using natural products, try using vinegar, a non-toxic agent, in these 10 ways:
In the kitchen, vinegar can be used in place of appliance cleaners.
Clean your refrigerator's ice and water dispenser by running vinegar through the system. Flush the vinegar out by running water through the system for 30 to 60 seconds.
Deodorize the garbage disposal by pouring in half a cup of baking soda and half a cup of vinegar. Let sit for five minutes, and then run hot water down the disposal.
Rid your dishwasher of mineral buildup by pouring half a cup of vinegar into the reservoir and running an empty cycle.
To clean a grease-splattered oven door window, saturate it with vinegar. Keep the door open for 10 to 15 minutes before wiping with a sponge.
In the bathroom, vinegar can help maintain plumbing fixtures.
Rid faucets of lime deposits by tying a plastic bag containing one-third to one-half cup of vinegar around it and leaving it there for two to three hours. Wipe down with a sponge, and scrub any remaining deposits with an old toothbrush. The same approach can be used to remove buildup on a showerhead.
To clean the toilet bowl, pour in a cup or more of vinegar and let it sit for several hours or overnight. Scrub well with a toilet brush and flush.
Vinegar and baking soda can unclog and remove odor from a tub drain. Pour half a cup of baking soda in the drain, followed with two cups of hot vinegar. Immediately plug the drain with a rag to keep the bubbles contained for 10 minutes. Rinse by pouring a kettle of boiling hot water down the drain.
In the laundry room, vinegar can help preserve your garments.
Forgot you left wet laundry in the machine? Pour a few cups of vinegar in the machine, and wash the clothes in hot water. Run a normal cycle with detergent to rinse the clothes.
Remove coffee and tea stains on clothing by flushing the area with vinegar, rinsing and repeating. For wine stains, saturate the spot with vinegar and allow it to stand for several minutes. Wash as normal.
Restore yellowed clothing by soaking garments overnight in a solution of 12 parts warm water and one part vinegar. Wash them the following morning.
These are just some of the (endless!) uses for vinegar. How will you use it in your home?
Source: Mizkan Americas
Published with permission from RISMedia.
5 Organizing Tools You Didn't Know You Needed
July 2, 2020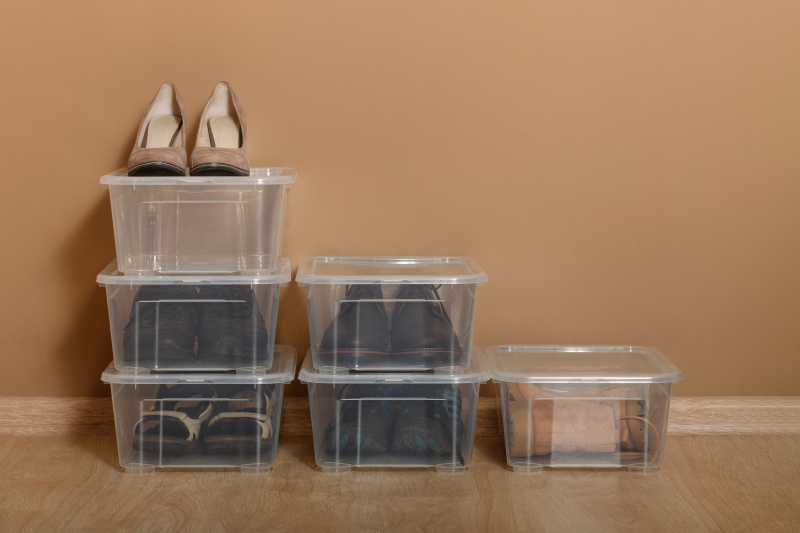 Home organizing can seem overwhelming at times, and it can seem like a task best left to the professionals. While you may not have every item in your home color-coordinated for a photo worthy of social media, organizing your home is perfectly achievable for the average person. These five organizing tools are the perfect place to start.
Bamboo Drawer Dividers
This is a must-have if you find that your kitchen utensils are constantly in disarray. With the ability to customize your spaces for each item, this is a far more user-friendly option than a traditional box utensil organizer. While it may seem like a small place to start organizing, since you likely cook daily, you will notice the impact right away.
Wire Bins
With an industrial and modern feel, wire bins are the perfect option for anywhere in the house. Utilitarian enough that they will work in a closet or cupboard, but sleek enough to be displayed out in the open. They're design makes them ideal for viewing groups of items at-a-glance making a grouping of a few together ideal in a children's room for toys or your pantry for various foods.
Clear Plastic Totes
Clear totes in a range of sizes are an essential item to house any gear or clothing that is out of season. Be sure to stick only to clear and weathertight totes. This will ensure that your belongings are protected if you decide to put them in a garage or shed. Keeping the totes clear makes it easy to see what you are storing in case you are unable to see the label.
Cabinet Door Wire Rack
If you need a good spot to store your favorite hair dryer and other accessories in your bathroom, look no further than a cabinet door wire rack. Organize your hair care tools with ease while ensuring they stay off the counter with this handy way to add usable space to your bathroom cabinets.
Cabinet Pullout Shelves
Installing pullout baskets in your cabinets is a simple task that can add a lot of extra utility to your cabinet storage. Opting for a two tier model not only doubles your vertical space, but allows you to easily access items that are being stored in the very back of the cabinet. These pullout shelves are ideal for anything from pots and pans to cleaning supplies. Once you get one, you'll be hooked.
Getting your home better organized can feel like a breath of fresh air. Get started today with these tools and you will be on your way to becoming an organizing guru in no time.
Published with permission from RISMedia.
Getting Maxi Space Out of a Mini Bath
July 2, 2020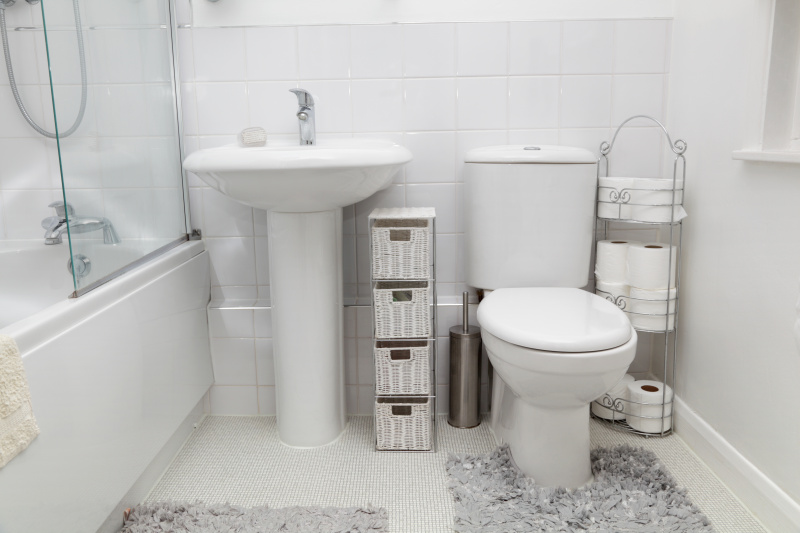 A small bathroom can be a major dilemma, especially for families or for anyone who regularly accommodates guests. But making more space in a small bathroom can be like fitting a puzzle together; it takes an eye for design, a little savvy and being open to some outside help.
From bath designers and solution-seeking parents, here are seven ideas for getting maximum use out of small bathroom space:
Redirect the door. A door swinging into a small bathroom makes things seem even tighter. Reposition the door to swing outward or, if that's not feasible, try a sliding pocket door.
Make the most of under-sink storage. If there is no vanity under the sink, install one. If there is one, chances are it's a wasteful cavern. Invest in portable, under-sink organizers, available at most hardware or big-box stores, that provide tiered storage bins you can tuck into the vanity to hold bath toys, grooming supplies, cleaning supplies and more.
Install a countertop extension. Expanding the vanity countertop with a banjo-style extension that goes over the toilet provides extra space for guest towels, aerosol containers, tissue boxes, cosmetics and more. If that's not feasible, try hanging a couple of basket shelves on the wall next to the sink.
Capitalize on shelving. Moving the towel bar to behind the door leaves more room on the wall next to the shower for a storage cabinet or shelving. Maximize storage by rolling small towels to fit into small cabinet cubbies.
Keep paper goods in plain sight. Stack toilet paper rolls on an attractive vertical stand tucked in a corner next to the toilet.
Use accessories to your advantage. As space allows, use attractive baskets, bowls, designer hooks and boxes to store a wide variety of bath items.
Trick the eye. A large, well-placed mirror reflects light and adds depth. Give it double duty by positioning it over the sink so that two people can use it at the same time.
Published with permission from RISMedia.
Reasons to Cook at Home More Often
July 1, 2020
Some people are overwhelmed by the idea of preparing their own meals, while others are tired after work and stop at a restaurant or order takeout for convenience. Cooking at home is a better choice, and it doesn't need to take up a lot of time or add to your stress level.
Save Money
Meals prepared at a restaurant will almost always cost a lot more than ones made at home. If you have food delivered, you'll also have to pay for delivery and a tip. If you make meals yourself, you can buy ingredients on sale and prepare extra so you'll have leftovers for another dinner or to take to work for lunch.
Save Time
If you go to a restaurant, you'll have to drive there and back and wait to be served. On a busy night, you may be starving by the time your meal arrives and realize you would've been better off whipping something up at home.
You can prepare meals your family loves in large quantities when you have the time and freeze the leftovers. Then, if you get home late or have a particularly stressful day, you can heat something up and have a delicious homemade dinner in minutes.
Eat Healthier
Restaurants tend to use a lot of salt, sugar, butter, oil and other unhealthy ingredients in their food. That can lead to weight gain if you eat out a lot. If you have diabetes, high cholesterol or food allergies, it can be hard to eat healthy at a restaurant. Some establishments are willing to make changes to accommodate customers with dietary restrictions, but others aren't.
Restaurants also tend to serve portions that are too large for the average person, which can lead to overeating. At home, you can control portion sizes.
Explore Limitless Options
Sometimes you have a craving, but no local restaurant serves that particular dish. At home, you don't have to choose from a limited menu. You can make whatever you want, whenever you want, and you can alter it to suit your own tastes.
Relax and Learn New Skills
Cooking at home can be fun, whether you do it yourself or with family members. You can explore unfamiliar recipes and ingredients and learn new methods of preparing old favorites.
Even if you don't know how to cook now, there are plenty of cookbooks, TV shows, and online articles and videos to teach you everything you need to know. You may be surprised by what you can master.
Try Cooking at Home More Often
Preparing your own meals at home can save you money and time and improve your health. Many people also find preparing their own meals an enjoyable way to unwind and spend time with loved ones. If you currently eat out or order takeout most nights, make an effort to prepare more meals at home so you can see the benefits for yourself.
Published with permission from RISMedia.
Why You Should Automate Your Savings
July 1, 2020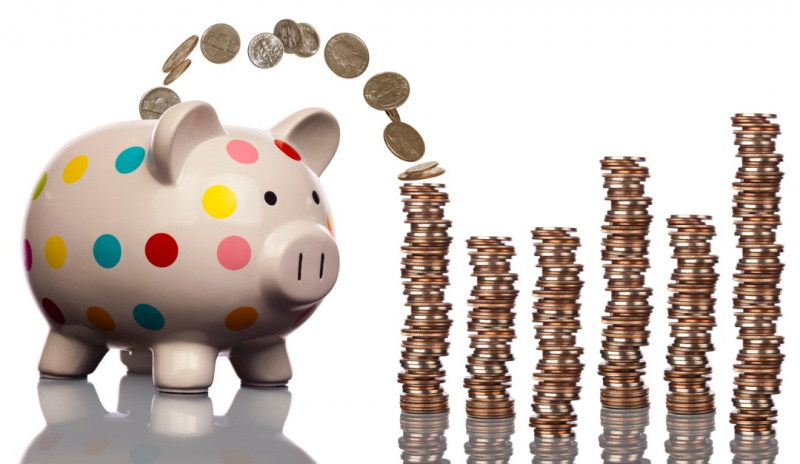 Whether you want to save for retirement, your children's college education, a house purchase or a dream vacation, you'll need dedication and time. For many people, the temptation to spend money on things they want or need now, or the belief that saving a large sum of money is too difficult or impossible, keeps them from reaching their goals. Automatically transferring funds to separate accounts for long-term priorities can make saving easier.
Why Saving Automatically Works
Many people find that automating their savings helps them because they consider the balance in their checking account the amount that they have available to spend. Money in a separate account is still accessible, but a withdrawal or transfer is required to access it. That minor inconvenience helps keep people on track because it forces them to ask themselves whether the things they want to purchase are really necessary. People often feel disappointed with themselves if they take money out of an account dedicated to a long-term goal and try to avoid doing so.
How to Automate Your Savings
If you have a retirement plan through work, your employer likely already transfers a portion of your earnings to the account each pay period. You can set up savings accounts with competitive interest rates to work toward other goals, such as college, home renovations or a vacation. It's best to have a separate account for each objective so you can track your progress and stay on track.
Automatically transfer money into one or more accounts each time you get paid. Your bank or credit union probably has an easy way to do that through its website or app. If your pay is direct-deposited, your employer may even be able to divide your earnings among multiple accounts so you won't have to think about it.
Save Extra Money You Receive
If you have a budget and use your regular earnings, minus automatic savings, to cover your bills, any extra funds that come your way, such as an annual bonus or an income tax refund, can be used to beef up your savings. If you were getting by fine without that additional money, you won't miss it, but you will appreciate it later when you reach your savings objectives.
Prioritize Your Long-Term Goals
If all your money goes into one account, it's too easy to spend it in a pinch or on a whim instead of thinking about the big picture. Automatically saving money can help you achieve financial success. Even if you only set aside a small amount each time you get paid, doing so consistently over a period of months or years can help it grow. As you become accustomed to making ends meet with a little less money and see your balances increase, you may be inspired to make other small changes that can help you boost your savings and reach your goals even faster.
Published with permission from RISMedia.
Flavor Fusion: Update Summer Classics With Asian-Inspired Flair
July 1, 2020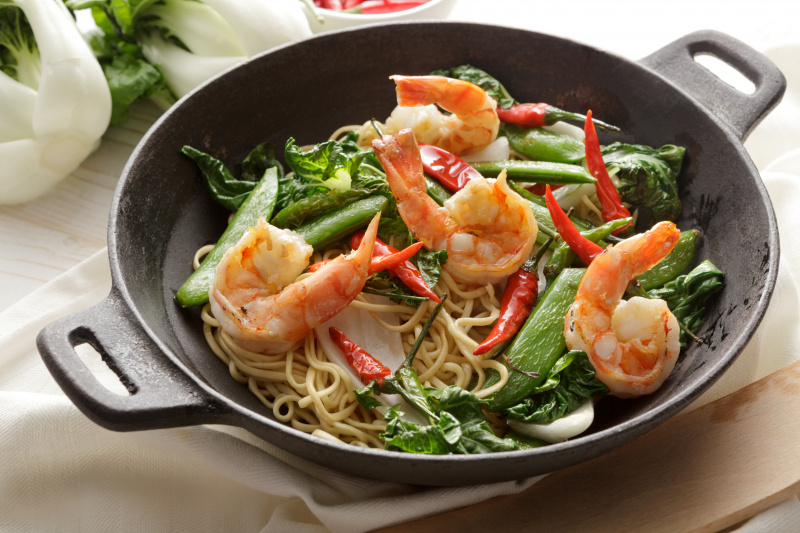 (Family Features) A distinctive and unexpected ingredient like rice vinegar is an easy way to bring faraway flavors to your favorite summer dishes. This pantry staple adds an Asian-inspired flavor to recipes of all kinds, from marinades to high-end meals.
Explore a new way to enjoy steak this summer with a recipe for zesty, marinated beef paired with crisp broccolini and peppers to give a familiar dish a fresh makeover using flavors from another origin. Give fajitas an Asian makeover with shrimp seared in a decadent hoisin-ginger sauce or try a fresh take on a crunchy salad with this Mexican-meets-Asian layered approach that's perfect for lunch.
Include seasonal produce like cucumbers, bell peppers and tomatoes to enhance your summer flavor fusions. Pantry staples like black beans and canned corn also offer accessible ways to make elevated summer classics.
Capture Asian flavors with ingredients like NAKANO Rice Vinegar, which has perfected its rice vinegars over eight generations to offer unique and delicious flavors perfect for making mouthwatering Asian-inspired recipes at home.
Find more flavorful ways to put an Asian twist on your summer dishes at nakanoflavors.com.
Sizzling Shrimp Fajita Stir-Fry
Prep time: 15 minutes
Cook time: 10 minutes
Servings: 6
1 1/2 pounds large, raw shrimp, peeled and deveined (21-25 shrimp total)
2 tablespoons soy sauce, divided
4 teaspoons cornstarch, divided
1/4 cup NAKANO Roasted Garlic Rice Vinegar
3 tablespoons hoisin sauce
2 teaspoons grated fresh ginger
3 tablespoons vegetable oil, divided
1 red onion, cut into thin slivers
1 red bell pepper, cut into thin strips
1/2 pound shishito peppers, stemmed
6 warmed corn or flour tortillas
1/2 cup finely shredded red cabbage
1/4 cup thinly sliced green onions
In a medium bowl, combine shrimp, 2 teaspoons soy sauce and 2 teaspoons cornstarch; let stand for 5 minutes to marinate.
In a separate bowl, whisk remaining soy sauce, remaining cornstarch, rice vinegar, hoisin sauce and ginger until blended.
In a large nonstick skillet over medium-high heat, heat 1 tablespoon oil until shimmering. Add half of shrimp; cook 1 minute on each side. Transfer to a clean bowl; repeat with remaining shrimp. Wipe out the skillet with a paper towel.
In the same pan, heat remaining oil until shimmering. Add red onion, bell pepper and shishito peppers. Cook, stirring, 2-4 minutes until peppers begin to blister. Add vinegar mixture; cook, stirring, 1-2 minutes, or until sauce is slightly thickened. Add shrimp to the pan. Cook, tossing well until shrimp and vegetables are coated with sauce.
Fill tortillas with shrimp mixture, cabbage and green onions.
Pro Flavor-Fusion Tips
The key to a successful stir-fry is to use high heat to quickly cook meats and vegetables in stages without overcrowding the pan. This ensures that veggies stay slightly crisp, and meats develop a delicious sear instead of steaming.
Avocado oil has one of the highest smoke points, making it a great choice for high-heat cooking like stir-frying.
Hoisin sauce, which you can find in the Asian section of most grocery stores, is used frequently in Chinese and Vietnamese cuisine. It's a salty, fermented soybean paste often combined with garlic, chiles and five-spice powder, which adds a sweet, umami-rich, aromatic flavor to the dish.
Shishito peppers are slender, mild, green Japanese peppers available in the produce section of well-stocked grocery stores or Asian markets. If shishito peppers are unavailable, substitute with multicolored mini peppers.
To accommodate those who love a lot of spice and those who prefer less spice, serve mild-to-medium-spicy foods with additional chili sauce on the side.
Swap out heavy, high-calorie salad dressings for a splash of additional flavor with NAKANO rice vinegar.
Published with permission from RISMedia.
5 Steps to DIY Dog Grooming
June 30, 2020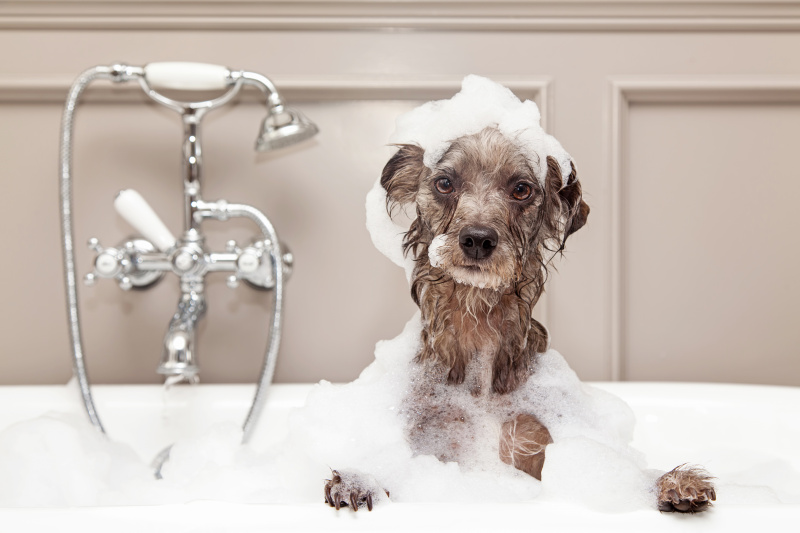 Most pets need light grooming between visits to a professional, but dogs often need more attention than others. If you have a dog, pamper your pooch with these five do-it-yourself grooming tips from Petco:
Gather supplies.
Before getting started, make sure all the correct tools are on hand. Pet parents should have dog shampoo, a towel, conditioner, a brush and treats. Don't substitute, especially dog shampoos and conditioners–these are specially formulated to release loose hair and undercoat while they clean.
Do a pre-bath brush.
Brush your dog to loosen and remove the undercoat. Before brushing for the first time, let the dog sniff the brush to get acclimated, and give plenty of treats during the process so the pooch equates it with a positive experience. Use a deshedding tool for dogs with a heavy coat; dogs with shorter coats do better with a simple slicker brush or rubber curry brush.
Bathe like a baby.
Always test the water before letting your dog in the bath–lukewarm is best. Avoid agitating your pooch by beginning at the back end and working toward the head. Lather up and rinse thoroughly. You'll know your dog is soap-free when the pooch's skin feels slick and makes a slipping noise.
Dry, dry, dry.
Towel off your dog until most of the moisture has been removed, and use a hairdryer to finish–warm or cool setting only! Again, begin at the back and work forward so your dog adjusts calmly to the noise. It's also helpful to spray on a hydrating mist during the drying process to moisturize the skin and coat.
Let him or her loose.
Brush through the coat one last time to remove any excess hair and add shine, and trim your dog's nails. You can use human nail clippers for pint-sized pals, but invest in dog clippers for larger breeds.
When you find yourself between grooming visits, follow these steps to give your dog some much-deserved TLC!
Published with permission from RISMedia.
How to Use a Fire Extinguisher
June 30, 2020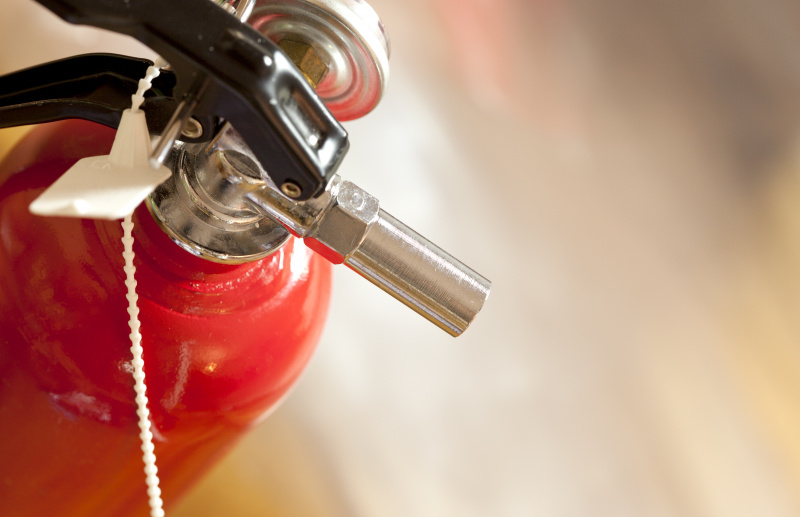 Fire extinguishers can save lives and property, but many people might not know how or when to use the protection devices, according to the U.S. Fire Administration. To help ensure you're better prepared for a fire emergency, the agency offers the following tips:
Choosing the Right Fire Extinguisher
There are five primary types of fire extinguishers, each designed to put out different kinds of fires:
Class A. For use with ordinary materials like cloth, wood and paper. Often found in homes and businesses.
Class B. For use with combustible and flammable liquids like grease, gasoline, oil and oil-based paints. Often found in homes and businesses.
Class C. For use with electrical equipment like appliances, tools or other equipment that's plugged in. Often found in homes and businesses.
Class D. For use with flammable metals. Often found in factories.
Class K. For use with vegetable oils, animal oils and fats in cooking appliances. Often found in commercial kitchens.
For the home, choose a multipurpose fire extinguisher that covers Class A through Class C for fighting all three types of common house fires. Most home improvement stores carry multipurpose A-B-C models. In addition to fire extinguishers, every household should have working fire alarms and a fire escape plan.
When to Use a Fire Extinguisher
Fire extinguishers are designed for small, confined fires, not large ones that are growing. Before using an extinguisher, make sure the fire is contained in a single object, such as a pan or wastebasket. Alert others in the building that there's a fire, and have someone call the fire department. Before proceeding, make sure you are physically able to handle the fire extinguisher, safe from the fire's toxic smoke and have a clear escape route.
To operate a fire extinguisher, remember the acronym PASS:
Pull the pin. Hold the extinguisher with the nozzle pointing away from you, and release the locking mechanism.
Aim low. Point the extinguisher at the base of the fire.
Squeeze the lever slowly and evenly.
Sweep the nozzle from side-to-side.
If you're unsure about whether it's safe to use a fire extinguisher–and for all other fire situations–alert others, leave the building, and call 911 from a mobile or neighbor's phone. Safety should be the top priority, and it's essential to follow your instincts and know when to get out. As such, it's not recommended that children use fire extinguishers.
The Importance of Maintenance
To ensure fire extinguishers are ready in case of an emergency, make sure to regularly check them for the following:
Easy access in an emergency. Be sure nothing is blocking or limiting your ability to reach the extinguisher.
The recommended pressure level. Many extinguishers have gauges that show when pressure is too high or too low.
Working parts. Make sure the can, hoses and nozzles aren't damaged, dented or rusted.
Remove any dust, oil or grease that might be on the outside of the extinguisher.
Guidelines and instructions. Some extinguishers need to be shaken monthly, while others need to be pressure tested every few years.
If you would like fire extinguisher training or have any questions, contact your local fire department.
Published with permission from RISMedia.
Six Tips for Sleeping Better in Uncertain Times
June 30, 2020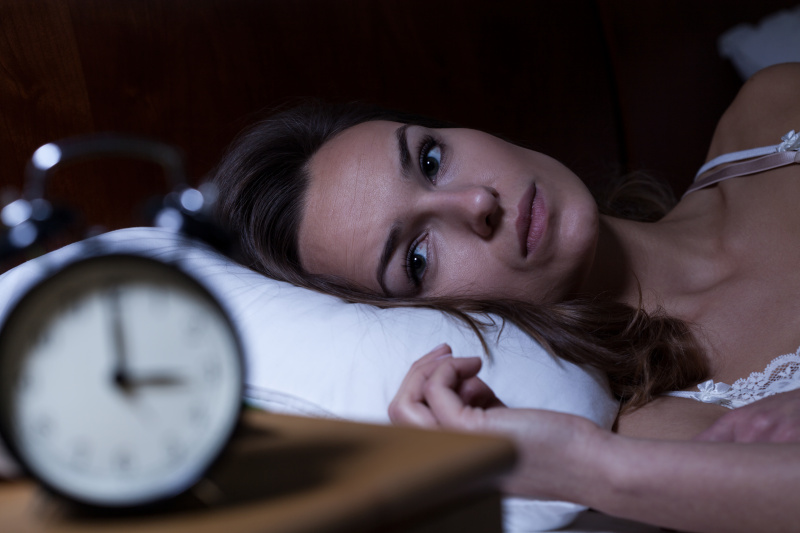 Stress is the enemy of restful sleep. We are living in a time when it's hard to avoid feeling stressed, but poor sleep adversely affects hormonal balance and brain function. A good night's sleep is just as important to good health, physically and mentally, as exercise and a healthy diet.
From physicians and sleep therapists, here are six ways to help improve your chances of achieving more restful nights:
Stick to a routine. Going to bed at the same time each night helps prepare your body for sleep. Try to maintain a regular routine, perhaps taking a bath, reading for half an hour or meditating for even a few minutes just before lights out.
Avoid technology. Studies have shown that blue light or bright screens just before bedtime can disturb your sleep. Don't check your phone or your laptop and avoid watching TV just before retiring.
Watch your intake. Consuming alcohol or caffeine late in the evening can keep you wide-eyed for hours, as can eating heavy foods. Stick to non-caffeinated drinks and light snacks in the hours leading up to bedtime —and bear in mind that drinking too much liquid of any kind in the evening may lead to frequent urination, a common cause of sleep interruption.
Optimize your environment. Use your thermostat and/or an overhead fan to regulate temperature, keeping your bedroom to the cool 65-degree level recommended by the National Sleep Council. If outside noise is a problem, try blocking it out with a white noise machine or noise cancelling earplugs.
Upgrade your bedding. A new mattress, or even a new pillow, can do wonders to better align your spine, relieve joint pain and improve sleep. Try settling into soft, new sheets with a high thread count. Upgrade to a soft comforter or try a weighted blanket, which some say reduces anxiety or depression and helps improve overall sleep.
Rule out a sleep disorder. If all else fails, visit your doctor. An underlying condition, such as sleep apnea, can be potentially serious as it causes inconsistent or interrupted breathing.
Published with permission from RISMedia.
5 Tips for Keeping Healthy Houseplants
June 29, 2020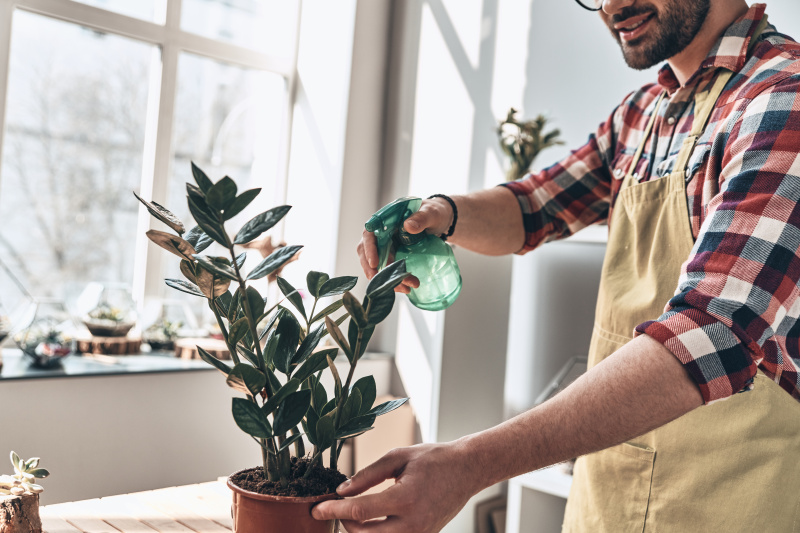 Investing in a few houseplants can do wonders to enhance a room. In fact, research has shown that there are several benefits to having indoor plants. In addition to adding color and a natural feel to a space, they can improve air quality, relieve stress and increase productivity.
Although houseplants don't require fancy tools, they do need regular care to grow strong. With these tips, you can keep healthy indoor plants that'll provide you with many benefits:
Know Your Houseplants
Different plants have different needs, so familiarize yourself with the best conditions for your plants. This is usually easy because most houseplants come with a tag that outlines the necessary care. If you don't have the tag, you could look up the recommended care for a specific plant species online. Once you discover what each plant needs, follow the recommendations.
Water Properly
Plants need water, but too much can kill them. Remember, different plants need different amounts of water and to be watered at different intervals. Some plants might require watering every other day, and others may need watering just once a week.
You may also want to consider the water you use. If your tap water is hard or has high chlorine content, it could damage your houseplants. As an alternative, you could collect rainwater to use on the plants.
Give Them Fertilizer
Fertilizer is even more important for houseplants than it is for outdoor plants, as indoor plants have no source of nutrients other than the ones you provide them. Therefore, it's vital that you buy the right fertilizer for your houseplants and follow the instructions carefully.
Find a Good Location
You don't want to place your houseplants in just any location inside the home. You need to account for several factors to ensure you're providing them with a good environment. One of the keys to placing a houseplant is the amount of sunlight it needs. Some plants may need a lot, while others may be able to thrive in the shade.
Also consider humidity, as plants can dry out if there isn't enough moisture in the air. Avoid placing plants near heating vents, and if an area of the home is drafty during winter, consider relocating the plant until the seasons change.
Keep a Watchful Eye
Even if you follow all the best practices for plant care, you must keep an eye on your houseplants. Indoor plants can still be subject to diseases and pests. Looking for signs of damage can help you get ahead of any issues that could cause your plant to die if untreated.
You should also prune your houseplants regularly and watch their growth. You obviously want to prune any branches that are damaged, dead or diseased, but also consider repotting houseplants that have outgrown their containers. If you take care of your plants, there's a good chance they'll need to be moved to a larger pot.
By implementing all these tips, you'll be well on your way to having healthy houseplants that live longer.
Source: Rae Steinbach/RISMedia's Housecall
Published with permission from RISMedia.